In 2017, the 3rd edition of the Add+it (Symposium on ADDitive Manufacturing and Innovative Technologies), focused on polymers, will take place on September 28 – 29, 2017, in Steyr, AT.
Symposium venue:
Museum Arbeitswelt
Wehrgrabengasse 7
4400 Steyr
We are ha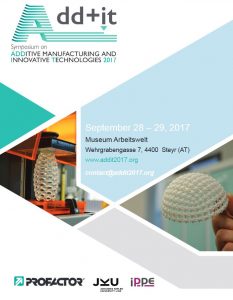 ppy to welcome experts from ten different countries. All talks will be in English.
The program can be downloaded here >> Add+it 2017 PROGRAM
September 27, 2017
14:00 – 17:00            Optional:    

 (3D Printing of polypropylene)
September 28, 2017
09:00 – 12:00            Optional:    

 (Polyjet technology)
11:30

Registration

12:30

Opening, welcome & agenda

Prof. Dr. Z. Major, JKU IPPE    I   G. Hackl, Major of the city of Steyr   I    bmvit    I    T. Fischinger, PROFACTOR

12:40

Value creation with AM in serial products and services

Prof. Dr.-Ing. Mirko Meboldt, ETH Zurich

13:15

Additive manufacturing for medical devices: an overview

Dr.-Ing. Benoît Herman, Institute of Mechanics, Materials and Civil Engineering, Université catholique de Louvain

13:50

Print it Right the 1st Time – How Simulation can help the Additive Manufacturing Industry Transition from Visual Prototyping to Optimally Engineered Products

Dr. Roger Assaker, e-Xstream Engineering

14:30

Networking & exhibition
15:00

Parallel Session I
Additive Manufacturing for Medical Applications*

 

National flag ship
project "Addmanu"*

      

Material Development

Stereolithography in the medical field. State of the art and future prospects

Dr. Simon Gruber, W2P Engineering

Additive manufacturing for tools and components

Christopher Wiednig, voestalpine Additive Manufacturing Center GmbH, Düsseldorf

Challenges in 3D-FLM-printing of Natural Fibre Reinforced Polymers

DI Dr. Andreas Haider, Kompetenzzentrum Holz

Potential of AM for wearable systems with patient-specific design: orthoses, prostheses and exoskeletons

Philip Czapka, Fraunhofer Institute for Manufacturing Engineering and Automation IPA

Material- and process-related challenges modifying surfaces of 3D printed objects using robot-based inkjet printing

Dr. Michael Mühlberger, PROFACTOR
Dr. Dieter Holzinger, Tiger Coatings

 

UV curable polymer-ceramic inks for 3D inkjet printing

Dennis Graf, Karlsruhe Institute of Technology (KIT) IAM-WK

Additive Manufacturing and applications in Cranio-Maxillofacial surgeries

Ralf Schumacher, University of Applied Sciences Northwestern Switzerland, Institute for Medical and Analytical Technologies

Co-Author: Dr. med. Florian Thieringer, Universitätsspital Basel

Improvement of intra- and inter-layer strengths in extrusion-based additive manufacturing

Martin Spörk, Montanuniversität Leoben

Molecular dynamic simulation of nanocomposites

Dr. Sheikhnedjad, Johannes Kepler University, IPPE

Discussion, World Café
Lithography-based Ceramic Manufacturing of Refractory Components

Dr. Gerald Mitteramskogler, Lithoz

Printing Polyolefin is a nasty work! Is it?

Dr. Thomas Fischinger, PROFACTOR

Filament metal printing

Markus Kaltenbrunner, EVO-tech
September 29, 2017
08:15

Welcome coffee

08:30

Opening, welcome & agenda

08:40

 Silicones – A novel Material for 3D Printing/Additive Manufacturing

Karsten Schlichter, Bluestar Silicone

09:15

Case Study: FFF Printed Fiber-Reinforced Polymer Heat Exchanger

Tom Mulholland, Polymer Engineering Center, University of Wisconsin-Madison

09:50

Networking & exhibition
10:30
Parallel Session II
Micro/Nano Additive
Manufacturing

Integrated Electronics*

   

Additive Product
Engineering*

Hot Lithography – Additive Alternative for Micro Injection Molding

Dr. Markus Pfaffinger, cubicure

NanoDrip printing for printed electronics

Dr. Patrick Galliker, Scrona AG

Additively Manufactured Pneumatic Actuators for Lightweight Robots

Gabriel Dämmer, FESTO

Additive Manufacturing for M3dical RESearch. (M3dRES)

Ass. Prof. Francesco Moscato, Medical University Vienna

3D-Printed Electronics

Dr. Volker Zöllmer, Fraunhofer Institute for Manufacturing Technology and Advanced Materials

Additive Manufacturing (AM) and Product development:  Opportunities, prospects and applications in Carinthia

Prof. Dr. Bernhard Heiden, Carinthia University of Applied Sciences

Recent Applications of 3D Microprinting in Medicine and Biology

Dr. Jochen Zimmer, Nanoscribe

Additive Digital Manufacturing in the Mass Production of Electronic Devices – A reality Now!

Dr. Fernando de la Vega, PV Nano Cell

Benefits of 3D-Printing in Communication and Product Development Processes

Bernhard Mayrhofer, Canon Austria

3D printed Micro Needles

Michael Haslinger, PROFACTOR

Tailoring magnetic field sources by printing NdFeB magnets

Prof. Dr. Dieter Suess, University of  Vienna

Streamline the Additive Manufacturing of Individualized Products

Dr. Martin Reiter, Johannes Kepler University, IPPE

Combining direct write laser lithography with 3D printing for optical applications

Ladislav Kuna PhD, Joanneum Research

Twinning Si- and organic-based electronics into printegrated systems on flexible substrates

Roman Lassnig, RISE Acreo

 Additive Manufacturing and the economic impact to the value creation chain

Arko Steinwender, Fraunhofer Austria Research
| | |
| --- | --- |
| | |
12:00

Networking & exhibition

12:30

AM-MOTION Project: a strategic approach to increasing Europe's value proposition for Additive Manufacturing

Dr. Margherita Cioffi, Rina Consulting S.p.A.

13:05

Additive Manufacturing: End-to-End Process 

Thomas Willinger, Siemens Industry Software GmbH, Digital Factory Division

13:40

Bionics, Lightweight Design and Additive Manufacturing – an ideal combination for the future? 

Daniel Siegel, Alfred Wegener Institute, Elise Group

14:20

Awarding Ceremony of School Competition and Closing of day 2 & farewell lunch

Mini Maker Faire 2017 (September 29-30)
There is the possibility to visit the new Maker Space of Steyr during the Mini-Maker-Fair on September 29 from 14:00 to 19:00. Makers come to show their creations and share their learnings. A 3D-printing LAB with novel technologies is part of the maker space. The association "Steyr Werke"  establishes the maker space in Musuem Arbeitswelt (Symposium location) in April 2017. The maker space is situated at the ground floor of the symposium location.
Competition on the field of additive manufacturing for schools 
Moreover, we are intended to extend Add-it 2017 with novel program elements.
We invite  technical high schools for a competition on the field of additive manufacturing.
Conrad electronics and Makerbot support the competition with a 3D- Printer.
We will prepare the corresponding call in the next week and both publish on the Add+it 2017 homepage and contact selected schools.
Symposium dinner, sponsored by UAR
Apart from the professional framework, a lot is offered: the symposium dinner, organized by the UAR, will take place in the castle garden Lamberg in Steyr.

Registrations Fees – Add+it 2017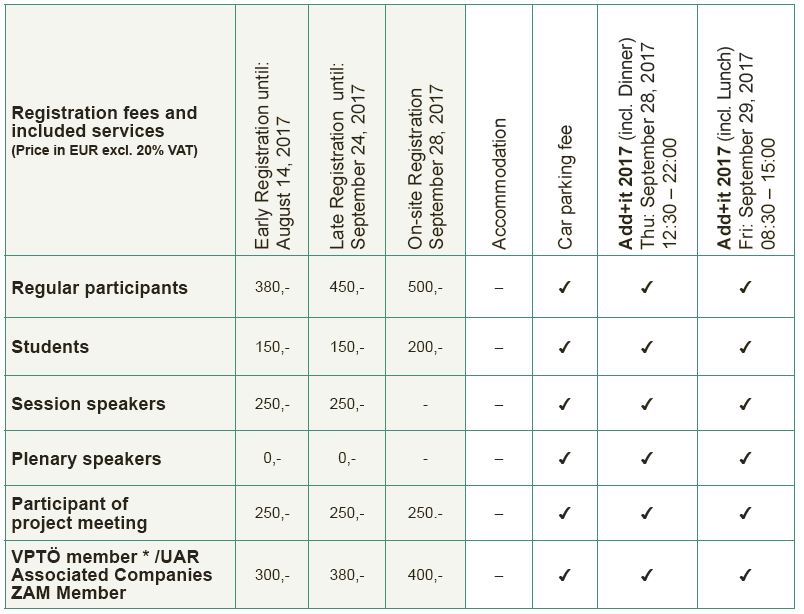 PROGRAM 2016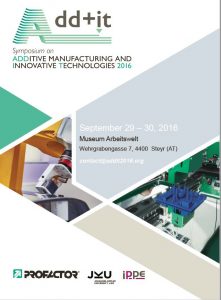 Here you can download the program of the Add+it 2016.
Feel free to contact us, in case of any questions
Dr. Thomas Fischinger
PROFACTOR GmbH
Im Stadtgut A2 | 4407 Steyr-Gleink | Austria
Tel. +43(0)7252 885-101