In 2017, the 3rd edition of the Add+it (Symposium on ADDitive Manufacturing and Innovative Technologies), focused on polymers, will take place on September 28 – 29, 2017, in Steyr, AT.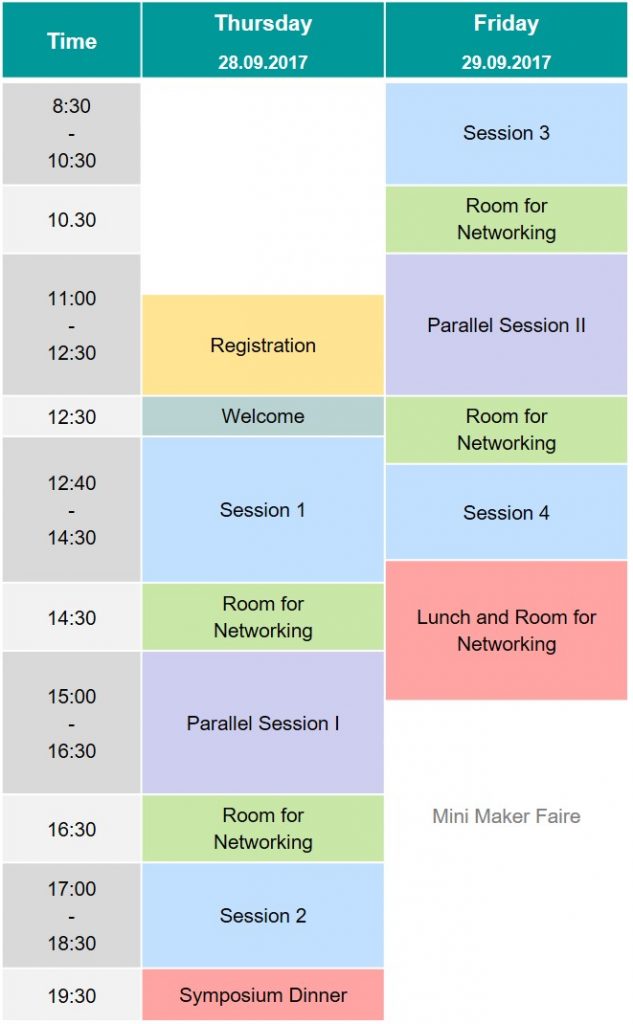 Invited plenary lectures:
Speakers are frequently updated here:
Parallel sessions
We are planning parallel sessions for intensive exchange of experience and for establishing future cooperation. The topics of these sessions reflect both the direct interests and actual projects of the organizing institutions (Institute of Polymer Product Engineering at the JKU, Linz and PROFACTOR in Steyr) and their perception of the need of the local industry partners.The organizing committee is planning the following parallel sessions:
Material Development for AM (Prof. Ch. Paulik and Prof Major, JKU)
Micro/Nano Additive Manufacturing (Dr. Th. Fischinger, PROFACTOR)
Integrated Electronics (Dr. Markus Koppe, smart plastic initiative)
Additive Manufacturing for Medical Applications (Dr. H-P. Huber, Medical Cluster)
Additive Product Engineering (Dr. M. Reiter JKU IPPE and W. Bohmayr, Kunststoffcluster)
National flag ship project "Addmanu" (Prof J. Stampfl, TU Wien)
Industrial Exhibition
More Information can be found here. 
Competition on the field of additive manufacturing for schools
Moreover, we are intended to extend Add-it2017 with novel program elements. IPPE has recently teaching and education activities ranging from 10 to 14 years kids to experienced industry users in many different projects (e.g. the project PolyGenFeros within a strong cooperation of the Kunststoff-Cluster OÖ). We invite grammar and technical high schools for a competition on the field of additive manufacturing. We will prepare the corresponding call in the next week and both publish on the Add+it 2017 homepage and contact selected schools.
Symposium dinner, sponsored by UAR
Apart from the professional framework, a lot is offered: the symposium dinner, organized by the UAR, will take place in the castle garden Lamberg in Steyr.
Mini-Maker Fair (September 29-30)
 There is the possibility to visit the new Maker Space of Steyr during the Mini-Maker-Fair on September 29 from 14:00 to 19:00. Makers come to show their creations and share their learnings. A 3D-printing LAB with novel technologies is part of the maker space. The association "Steyr Werke"  establishes the maker space in Musuem Arbeitswelt (Symposium location) in April 2017. The maker space is situated at the ground floor of the symposium location.
PROGRAM 2016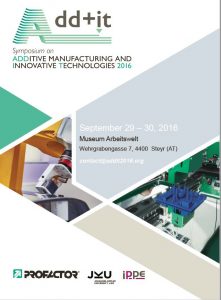 Here you can download the program of the Add+it 2016.
Feel free to contact us, in case of any questions
Dr. Thomas Fischinger
PROFACTOR GmbH
Im Stadtgut A2 | 4407 Steyr-Gleink | Austria
Tel. +43(0)7252 885-101