We invite you to visit our smart factory lab on the 22th November. Different demonstrators of research projects will be presented to give you an overview of the future of robotic – the robotic that considers intelligent cooperation with humans.
– XRob: easy robot configuration
– IGUS: low-cost robots for everyone
– Assistme: new user interface for more acceptance of robots
– Siam: Augmented Reality for maintenance
– addmanu: robot-based inkjet printing on curved surfaces
Our researchers are looking forward to answering your questions. The event is open to the public, with advance registration requested via e-mail: veren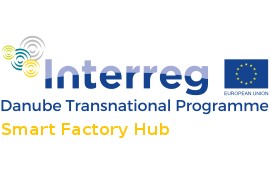 a.musikar(a)profactor.at
The OpenLAB tour is part of the project SMART FACTORY HUB. The main objective of the Smart Factory HUB project is to improve framework conditions for innovation in the area of "smart factory". Therefore we invite SMEs and the public to inform themself of current developements in the factory of the future.

This project is funded within the Strategic Economic and Research Program "Innovative Upper Austria 2020" by the Government of Upper Austria.