Manufacturing industry represents a generator of Research and Development, innovation, growth and employment. Based upon increasing pressure on manufacturers (increased production capacity in low-cost economies and increased level of sophistication of supply chains in high-cost economies), the manufacturers need to embrace novel technologies, principles and approaches.
In other words, manufacturers need to digitize their production, while taking into consideration also improvement in processes and human resource management.
The main objective of the Smart Factory HUB project is to improve framework conditions for innovation in the area of "smart factory".
Therefore, the project's goal is to develop R&D and business policy conditions for transnational cooperation in the manufacturing industry.
Result is improved cooperation between R&D and business where based on RIS3 (Research and Innovation Smart Specialization Strategy) centered model, quadruple helix partners will be oriented to find novel solutions in the following three domains: applying novel technologies, applying effective production process and applying effective human resource management system.
SMART FACTORY COOPERATION PLATTFORM is online.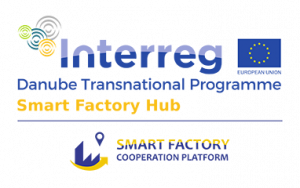 Project name:
SMART FACTORY HUB – IMPROVING RD AND BUSINESS POLICY CONDITIONS FOR TRANSNATIONAL COOPERATION IN THE MANUFACTURING INDUSTRY
Funding:
199,825 EUR
Interreg – Danuabe Transnational Programme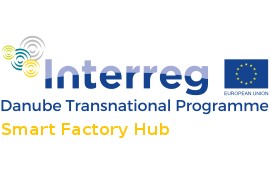 Project Co-funded by European Union funds (ERDF, IPA, ENI)
Duration:  
01.01.2017 – 30.06.2019
Website:
http://www.interreg-danube.eu/approved-projects/smart-factory-hub