In 2017, the 3rd edition of the Add+it (Symposium on ADDitive Manufacturing and Innovative Technologies), focused on polymers, will take place on September 28 – 29, 2017, in Steyr, AT.
Plenary speakers – Add+it 2017:

 

Prof. Dr. Mirko Meboldt

ETH Zurich
Chair of Product Dev.& Eng. Design, Schwitzerland

Tom Mulholland

Polymer Engineering Center,
University of Wisconsin-Madison, Madison, USA

Daniel Siegel

Alfred Wegener Institute, Elise Group, Germany

Dr. Ing. Bogdan Dybała

Wroclaw University of Technology,
Center for Advanced Manufacturing Technologies, Fraunhofer Project Center, Polen

Dr. Ing. Benoit Herman

Louvain Bionics Coordinator,
Université Catholique de Louvain,
Belgium

Dr. Roger Assaker

e-Xstream Engineering & Chief Material Strategist, MSC Software, Belgium

 
 
Dr. Margherita Cioffi

Rina Consulting S.p.A. ,
AM-motion project, Italy

Cândida Malça

Centre for Rapid and Sustainable Product Development of Polytechnic Institute of Leiria, Portugal

Thomas Willinger

Siemens Industry Software GmbH, Digital Factory Division, Austria
Session Speakers – Add+it2017
Material Development for AM
(Session Chair: Prof Major, JKU)
Additive Manufacturing for Medical Applications
(Session Chair: Dr. H-P. Huber, Medical Cluster)
National flag ship project "Addmanu"
(Session Chair: Prof J. Stampfl, TU Wien)
Micro/Nano Additive Manufacturing
(Session Chair: Dr. Th. Fischinger, PROFACTOR)
Integrated Electronics
(Session Chair: Dr. Markus Koppe, smart plastic initiative)
Additive Product Engineering
(Session Chair: Dr. M. Reiter JKU IPPE and W. Bohmayr, Kunststoffcluster)
Mini-Maker Fair (September 29-30)
 There is the possibility to visit the new Maker Space of Steyr during the Mini-Maker-Fair on September 29 from 14:00 to 19:00. Makers come to show their creations and share their learnings. A 3D-printing LAB with novel technologies is part of the maker space. The association "Steyr Werke"  establishes the maker space in Musuem Arbeitswelt (Symposium location) in April 2017. The maker space is situated at the ground floor of the symposium location.
PROGRAM 2016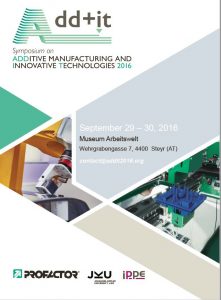 Here you can download the program of the Add+it 2016.
Feel free to contact us, in case of any questions
Dr. Thomas Fischinger
PROFACTOR GmbH
Im Stadtgut A2 | 4407 Steyr-Gleink | Austria
Tel. +43(0)7252 885-101