On behalf of PROFACTOR, LCM and EFFRA (European Factories of the Future Research Association) we cordially invite you to the third regional Connected Factories Workshop on November 7, 2018 in Linz.
The aim of the workshop is to enable an exchange to project ideas,  discuss and fine-tune the pathways to the deployment of digital platforms for manufacturing and to present the Smart Factory Solution within the frame of a "Learning Demonstration Workshop" of the DTR project Smart Factory HUB.
13:30-13:45   Welcome/Opening: LCM as Competence Centre in Upper Austria
13:45-14:10   Keynote                                                                                 
Update on the Pathways to digitalisation in manufacturing and the state of play of the FoF PPP'
Chris Decubber, Technical Director EFFRA (European Factory of the Future Research Association)    
14:10-14:30   Upcoming Calls in H2020 FoF and ICT, Forian Winner, BIZ-UP
14 :30-14:45   Coffe Break
14:45-14:55   Project "SMART FACTORY HUB", Christian Wögerer, PROFACTOR
14:55-16:00   Overview of 10 Smart Factory Solutions from Austria
PROFACTOR, LCM
Pro²Future: Modular Production
EVOLARIS – Live-Video-Assistance-System called EVOCALL
ABF- OneBase – MFT (material flow control), intralogistics solution
Tablet Solution – Work Held Voice Assistant
Xitrust – Sequre QR tag
Plasmo – Quality Assurance Solutions for automated production processes and additive manufacturing applications
PROFACTOR – X Rob – easy robot configuration
Business Upper Austria – Industry 4.0 Maturity Model
LCM – Digital Platform – SyMSpace
RHP – 4M System – Direct Metal Deposition
SCCH – Predictive Analytics Message Board
16:00-17:00   Discussion – Common projects of the participants
Venue:
Linz Center of Mechatronics,
Altenbergerstraße 69, 4040 Linz
Room: MT0121, Science Park I
For participation at the event please register online until October 31st: PROFACTOR GmbH7
+43 07252 885 0 | sekretariat@nullprofactor.at |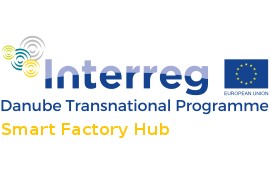 The event is part of the SMART FATORY HUB project, which aims to support SMEs in implementing innovations.