Im Namen von PROFACTOR, LCM und der EFFRA (European Factories of the Future Research Association) laden wir Sie herzlichst zum dritten regionalen Connected Factories Workshop  am 07.11.2018 in Linz ein.
Ziel des Workshops ist es einen Austausch für Projektideen und zur Weiterentwicklung einer digitalen Plattformen für die Produktion anzuregen und Smart Factory Solution zu präsentieren. Der Workshop findet im Rahmen eines "Learning Demonstration Workshops" des DTR Projekts Smart Factory HUB statt
13:30-13:45   Welcome/Opening: LCM as Competence Centre in Upper Austria
13:45-14:10   Keynote                                                                                 
Update on the Pathways to digitalisation in manufacturing and the state of play of the FoF PPP'
Chris Decubber, Technical Director EFFRA (European Factory of the Future Research Association)    
14:10-14:30   Upcoming Calls in H2020 FoF and ICT, Forian Winner, BIZ-UP
14 :30-14:45   Coffe Break
14:45-14:55   Project "SMART FACTORY HUB", Christian Wögerer, PROFACTOR
14:55-16:00   10 Smart Factory Solutions from Austria
Pro²Future: Modular Production, Georg Weichhart, PROFACTOR
EVOLARIS – Live-Video-Assistance-System called EVOCALL
ABF- OneBase – MFT (material flow control), intralogistics solution
Tablet Solution – Work Held Voice Assistant
Xitrust – Sequre QR tag
Plasmo – Quality Assurance Solutions for automated production processes and additive manufacturing applications, Sabine Seidl, Plasmo
PROFACTOR – X Rob – easy robot configuration
Business Upper Austria – Industry 4.0 Maturity Model
LCM – Digital Platform – SyMSpace
RHP – 4M System – Direct Metal Deposition
SCCH – Predictive Analytics Message Board, Theodorich Kopetzky, SCCH
16:00-17:00   Discussion – Common projects of the participants
Ort:
Linz Center of Mechatronics,
Altenbergerstraße 69, 4040 Linz
Room: MT0121, Science Park I
Um Anmeldung wird gebeten: PROFACTOR GmbH
+43 07252 885 0 | sekretariat@nullprofactor.at |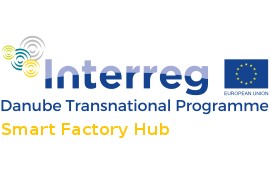 Das Event ist Teil des Projektes SMART FATORY HUB, in dem Projekt sollen KMUs  bei der Umsetzung von Innovationen unterstützt werden.